Volleyball District Champions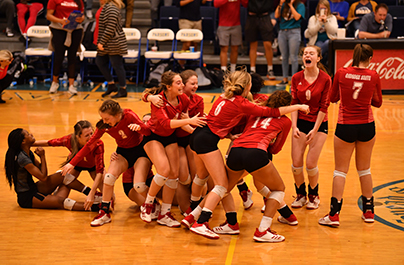 Gadsden, Ala. - Gadsden State Community College Lady Cardinals won the National Junior College Athletic Association Gulf Atlantic District A/B Volleyball Championship when they defeated the Monroe College Mustangs Nov. 3, 2019, at the tournament at Snead State Community College. The win advanced the team to the NJCAA Division I Volleyball Championship.
The Cardinals entered the championship match with an undefeated tournament record while the Mustangs had one loss. The Mustangs quickly took over the first championship match winning in straight sets, 3-0. The Cardinals were guaranteed a second match through the double elimination rule.
The second match was a heavy battle back and forth between the Cardinals and Mustangs with the teams flip-flopping on four sets. It came down to a fifth set that was close until the final moment as freshman Zoe Busbee approached with a middle attack that was tipped by the Mustangs' middle blocker and fell just over the heads of the remaining defenders. Gadsden State won the final set 15-12 making them the 2019 NJCAA Gulf Atlantic District A/B Champions.
Three Cardinals were named to the All-Tournament Team including Jaylyn Freeman of Harvest, Shelby Bates of New Market and Aubrey Pope of Alexandria. Sophomore Taylor Spradley of Alexandria received Most Valuable Player honors after also receiving Alabama Community College Conference Co-player of the Year recognition earlier in the week. The District Coach of the Year award was presented to Coach Connie Clark.
The Gadsden State Cardinals traveled to Hutchinson, Kansas, to compete in the NJCAA Division I Volleyball Championship Nov. 21-23. The Navarro College Bulldogs won the national championship.