Gadsden State part of partnership hosting EQWIP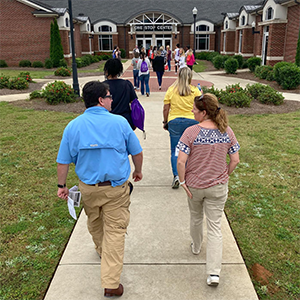 Almost 400 educators from area public school systems within Etowah County spent Oct. 11, 2021, with The Chamber of Gadsden & Etowah County staff and volunteers to learn about local career opportunities and technical training programs.
Etowah Qualified Workforce Immersion Program (EQWIP) is a program born from The Chamber's Partnering for Prosperity economic development plan, and annually connects 300-400 educators to a wide variety of manufacturing, technical and medical careers in the county. The program is a partnership with East AlabamaWorks, Gadsden State Community College, Attalla City, Etowah County and Gadsden City Schools.
"2021 is the third year that we've produced this program," said Heather Brothers New, president and CEO of The Chamber. "The first year – in 2018 – we took 10 educators that competed by application for the seat. In 2019, we hosted our first large group of about 400, and while we had to skip last year, we are thrilled to be back on track for this year."
She said the challenges in developing a qualified workforce are not unique to Etowah County. It's a national problem.
"The solutions start at home, and that's why this program was developed," New said. "We looked at models, specifically across the southeast. While our program is limited to one day, we make the most of it by being very intentional in diversifying industry, opportunities and educational attainment requisites."
Participants gathered at The Venue at Coosa Landing and kicked off the day with breakfast before disembarking on 10 school buses headed throughout the county. For the morning session, they visited two industries, ranging from Stamped Products and Gadsden Regional Medical Center and reaching as far as Hokes Bluff Welding and Fabrication, Evoke Aviation and the Gadsden Fire Academy.
New opened the morning by asking the crowd how many in attendance were elementary, middle or high school teachers. She then asked how many considered themselves economic developers.
"I want all of you to raise your hands right now and repeat after me: 'I am an economic developer,'" she said. "You are developing a product – the student. Your priority as an educator should be to produce a student that is a complement to our economy, otherwise you are producing a student that is a detriment to our economy. You are an economic developer."
New noted that for many students, teachers are the only influence they may have for career opportunities.
"I grew up in Moody's Chapel in Altoona," she said. "There weren't a lot of career choices showcased in my community and we didn't have the resources to visit a lot of business and industry. Teachers opened my eyes and my world about what opportunities were out there for me, and you all are doing the same thing for many students every day."
Educators ready to listen to a presentation about Gadsden State's Mechanical Design Technology program.
Lisa Morales, executive director of East AlabamaWorks, said EQWIP allows educators to see the opportunities in the community for career pathways and the resources available through collaborative partnerships focused on success.
"We are excited to partner with the Chamber to impact teachers who will take this information back to their classrooms and students," she said.
Morales shared about Worlds of Work, a student-centered immersion program that typically occurs in early spring, and brings eighth-grade students from throughout a seven-county region together for hands-on immersion activities with area employers, specifically focusing on the technical jobs of the future with high-wage and high-growth opportunities.
Morales also presented on the Federation of Advanced Manufacturing Education (FAME). The program is a work-based learning training program to create industrial automation professionals, desperately needed by almost every manufacturing company now and well into the future. It pairs recent high school graduates and other career technical students at Gadsden State with local manufacturers for on-the-job training that is also credentialed.
During lunch, the participants were treated to a presentation by Dr. Lee Meadows, director of the Alabama STEM Council. Part of the presentation challenged teachers to teach "modern learning for a modern economy."
"Who here memorized times tables in the fourth grade," said Meadows. "Okay, now tell me what seven times nine equals? A modern economy doesn't use memorization, it uses problem-solving."
Gadsden State's Dean of Workforce Development Alan Smith shared details of Pick Your Path, a new initiative that introduces career technical options to students early through an interactive online tool.
After lunch, participants again boarded buses and visited 20 technical programs on three separate campuses of Gadsden State. Each participant visited at least two programs and learned from instructors about dual enrollment, short- and long-term certificate and degree programs as well as career opportunities within their educational sector.
"My eyes were opened about the need to close the gap between some educational practices and the actual skills employers need," said Chip Rowan, a teacher at Gadsden City Schools and the director of Beautiful Rainbow Café.
Daniel Spencer, who works with the Alabama Department of Rehabilitation Services, volunteered as a bus guide for the day. This was his second time to help with the program.
"Seeing is believing. Seeing the minds of educators become unlocked and engaged to opportunities in business and industry will be key to bridging a gap between education and business," said Spencer. "Our educators can now help carry the message to student s and even their parents to what careers exist in Etowah County.
Tour hosts were also pleased with the outcomes of the day and were complimentary of the program.
Evoke Aviation owner Jonathan McCormick said that they were honored to be one of the hosts of the morning tours.
"As someone who had no idea the aerospace industry was an option in school, educating our local students about the exiting opportunities is critical to the future growth and development of our community," he said.
New said it was an overall great day for the educators, business and industry, Gadsden State employees and many volunteers.
"In economic development, we learn that transformative change can take up to 20 years, but programming like this can help expedite change in our students lives by lending them a broader vision and a deeper desire to invest back into our community with their livelihoods. Business and industry and education must be in lockstep for this to happen," she said. "And that's a win for everyone."